Home > Tutorials > How to Convert MP3 to OGG?
How to Convert MP3 to OGG?
| | |
| --- | --- |
| This article provides information on the following topics: | |
Free Mp3/Wma/Ogg Converter is a feature-rich audio converter to convert your audio files to WAV, MP3, WMA, OGG, AAC, M4A, FLAC and MP2. With the wizard guide and the simple format preset, you can precisely convert the audio files for various purposes. Please follow this tutorial for your MP3 to OGG conversion.
OGG is a free and open standard container format maintained by the Xiph.Org Foundation for digital multimedia. The name OGG derives from ogging, jargon from the computer game Netrek, which came to mean doing something forcefully, possibly without consideration of the drain on future resources. Designed for efficient streaming and manipulation, it contains raw compressed data (stores) and allows interleaving of audio and video data inside a convenient format. The OGG container format can multiplex a number of independent streams for audio, video, text (such as subtitles) and metadata. Its ability to be written and read in one pass has made it a natural fit for internet streaming. OGG is also a free and unpatented format, so it is commonly used to encode free content (such as free music) and is supported by a number of portable media players.
1. Launch Free Mp3/Wma/Ogg Converter. You can see the converter interface with the instruction for your operation. Click "Add..." to add one or more MP3 files to the list. The detailed info of the files will display in the window. You can also click "Delete" to remove the files unwanted and "Clear" to remove all the files listed. Task order can be arranged by "Move Up" and "Move Down".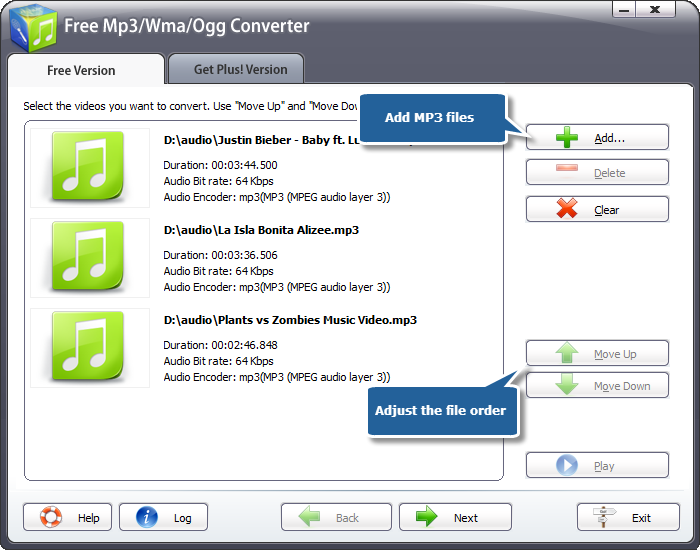 2. You can choose the output path from your computer by clicking "Select..." button. There are several buttons for you to choose output formats. Choose "To OGG" as an output format. Then you should select a preset to adjust the output quality as needed from the dropdown list of the "Presets".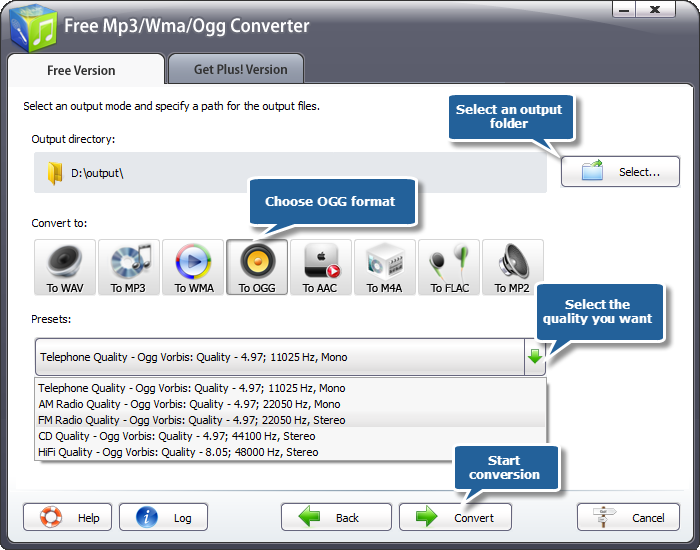 3. After you hit "Convert" button, some conversion information and a progress bar will be displayed within just few seconds, like the duration, status and progress of the conversion. You may choose to check the post-processing options to play a sound or shut down the computer when conversion is done.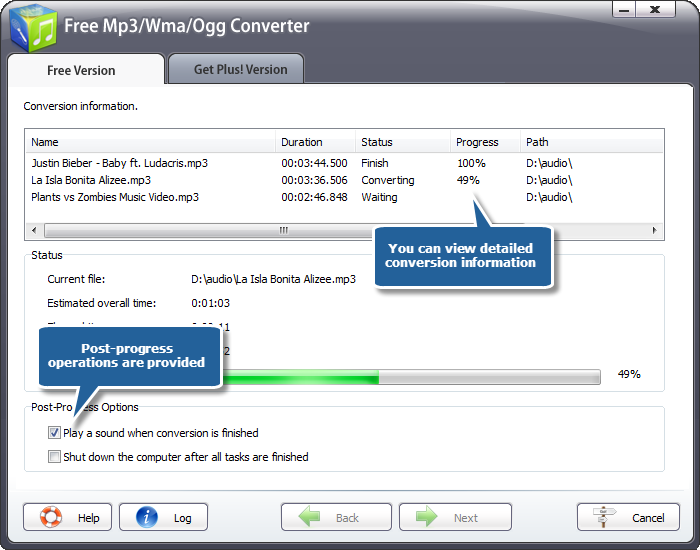 When the progress is complete, a general summary about the conversion will be displayed. You are allowed to directly open the output folder by clicking "Open folder" to get your OGG files.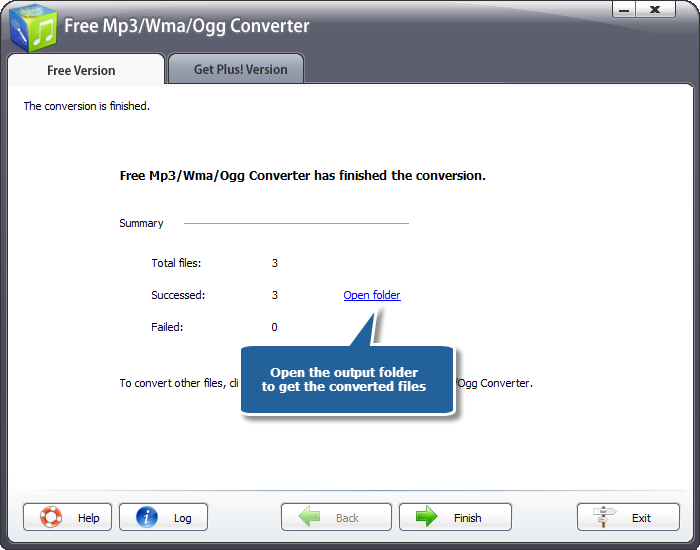 The log information for the whole conversion is viewable and you can even save the log file to analyze.