OGG (Ogg Vorbis) is an audio format that supported by many devices like Samsung and Archos but not iOS devices. Many streaming audio services uses OGG to provide streaming audio. Although it's not a dominant audio format like MP3, there may be need of it.
You should know that to convert MP3 to OGG means an audio quality drop because the conversion is between two lossy formats. It is suggested that you convert the source audio formats directly into OGG with Free Mp3/Wma/Ogg Converter but if all you get is MP3, you can also manage to do it.
---
MP3 to OGG Conversion Guide
1. Launch Free Mp3/Wma/Ogg Converter. You can see the converter interface with the instruction for your operation. Click "Add…" to add one or more MP3 files to the list. The detailed info of the files will display in the window. You can also click "Delete" to remove the files unwanted and "Clear" to remove all the files listed. Task order can be arranged by "Move Up" and "Move Down".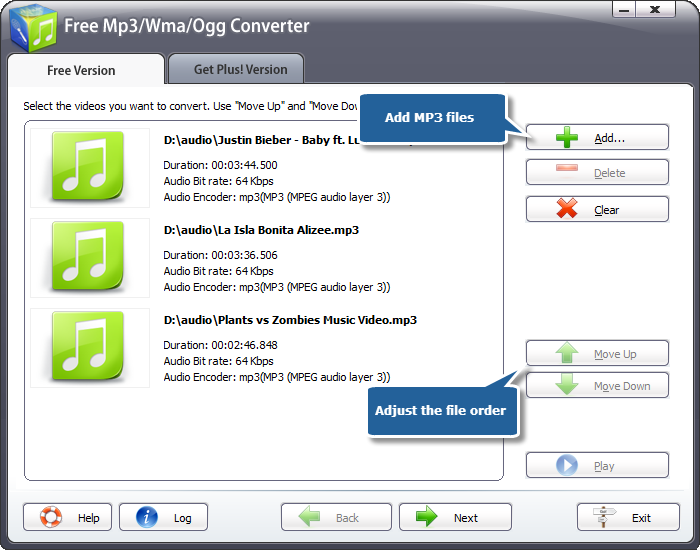 ---
2. You can choose the output path from your computer by clicking "Select…" button. There are several buttons for you to choose output formats. Choose "To OGG" as an output format. Then you should select a preset to adjust the output quality as needed from the dropdown list of the "Presets".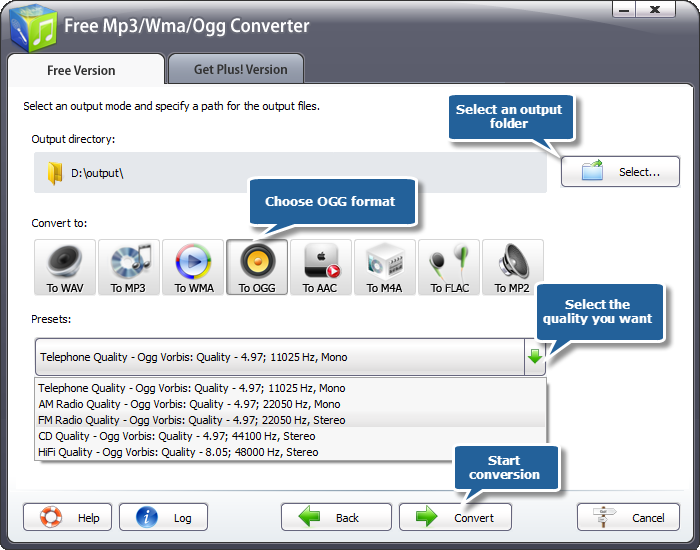 ---
3. After you hit "Convert" button, some conversion information and a progress bar will be displayed within just few seconds, like the duration, status and progress of the conversion. You may choose to check the post-processing options to play a sound or shut down the computer when conversion is done.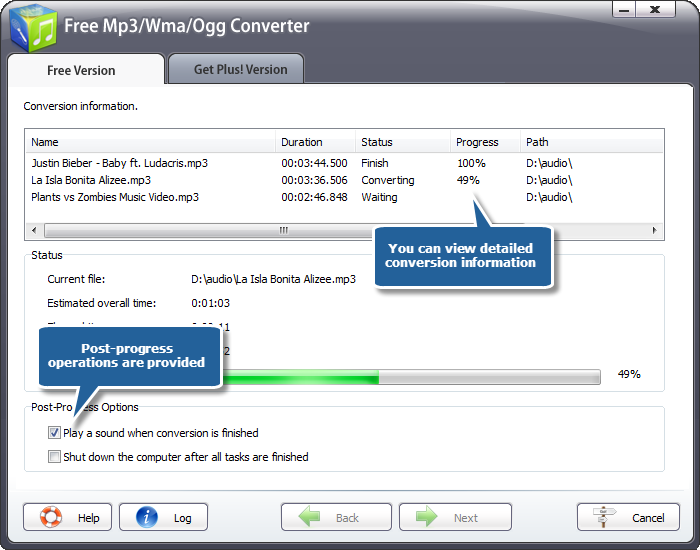 When the progress is complete, a general summary about the conversion will be displayed. You are allowed to directly open the output folder by clicking "Open folder" to get your OGG files.