WMA (Windows Media Audio) is an audio format used by many music download services as well as Windows-based devices and applications. Although WMA can provide slightly better quality with smaller size than MP3, it is not as popular as MP3.
MP3 is the most widely used audio format worldwide. Converting WMA to MP3 with Free Mp3/Wma/Ogg Converter can help you get the audio more compatible with any media software or devices.
---
What is MP3?
MP3 format, short for MPEG-1 Audio Layer 3, a revolutionary digital audio format, is developed by Fraunhofer-Gesellschaft and Thompson Multimedia in the late 1980s and brought to the mainstream through the Internet in 1997. It is a common audio format for consumer audio storage, as well as a standard encoding for the transfer and playback of music on digital audio players. MP3 is a near-CD quality file format for sound files and is very popular for music on the web. As an audio-specific format, MP3 becomes more popular when people use it to swap music online because of its powerful compression.
 The popularity of MP3 comes from its practical uses. Music tracks in WAV format are extremely large in file size, averaging around 50MB in size. Since it is so large, it is not practical to send WAV files through email or offer them for download on the Internet. MP3, however, compresses WAV audio on average of 10 to 12 times smaller than the original size. The result is audio tracks around 3 to 4 MB in size, perfect for downloading and sending through the Internet. Thus, custom MP3 format CDs can be created with 10 to 12 times the amount of tracks of a normal 12-15 track audio CD, producing CDs with over 100 tracks easily. The format is also popular for turning your PC into a jukebox of hundreds or thousands of songs or loading them into a portable mp3 player and taking your music collection wherever you want.
MP3 is a non-proprietary format that can be played with a whole host of different players. For users who have large music collections, it is a good choice to backup and enjoy.
WMA to MP3 Conversion Guide
1. Launch Free Mp3/Wma/Ogg Converter. You can see the converter interface with the instruction for your operation. Click "Add…" to add one or more WMA files to the list. The detailed info of the files will display in the window. You can also click "Delete" to remove the files unwanted and "Clear" to remove all the files listed. Task order can be arranged by "Move Up" and "Move Down".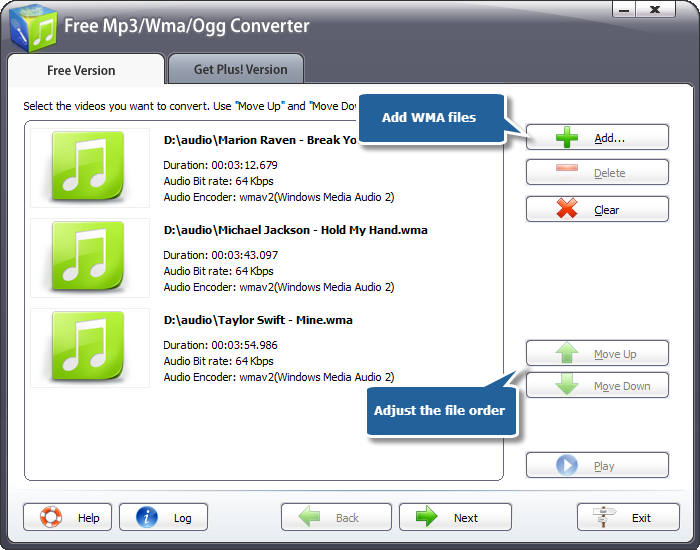 ---
2. You can choose the output path from your computer by clicking "Select…" button. There are several buttons for you to choose output formats. Choose "To MP3" as an output format. Then you should select a preset to adjust the output quality as needed from the dropdown list of the "Presets".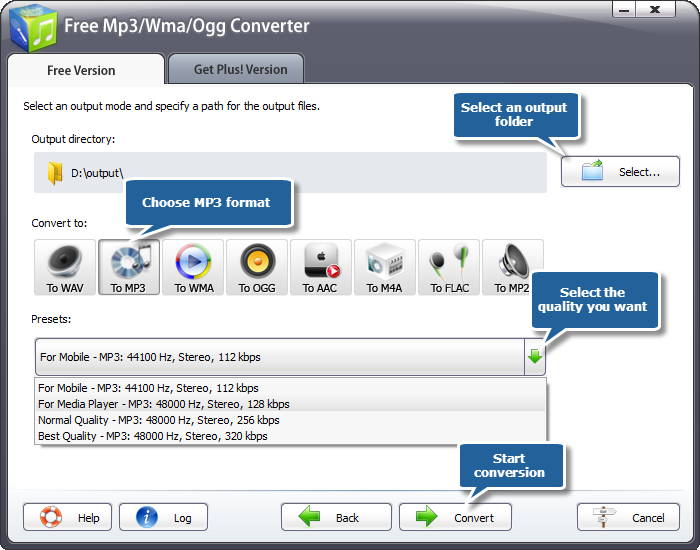 ---
3. After you hit "Convert" button, some conversion information and a progress bar will be displayed within just few seconds, like the duration, status and progress of the conversion. You may choose to check the post-processing options to play a sound or shut down the computer when conversion is done.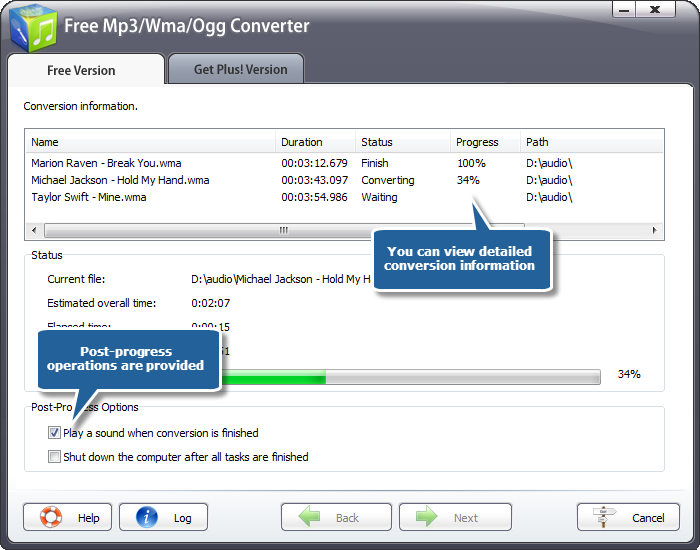 When the progress is complete, a general summary about the conversion will be displayed. You are allowed to directly open the output folder by clicking "Open folder" to get your MP3 files.