Is it possible to "convert" DRM protected WMA files? Technically, no. In many cases, it is illegal to circumvent Microsoft's protection in order to convert WMA files protected with Digital Rights Management (DRM). However, there are many legitimate reasons for wanting to convert these protected files, and many feel they should be able to do so. CyberPower Audio Editing Lab, features a solution for this. It can be used as a DRM Protected WMA Converter to record DRM protected WMA files while they are being played in Windows Media Player.
The audio recorder feature can save audio directly to MP3, unprotected WMA (using any desired profile), WAV (using any compression codec), OGG, and more. The audio recorder also includes a recording timer which enables you to schedule the software to record from the selected source at a predefined time and stop after a desired duration. Recorded audio can also be edited after the recording process is complete, without saving first. You only need to save once after all desired alterations are complete.
---
What is DRM?
Short for Digital Rights Management, a system for protecting the copyrights of data circulated via the Internet or other digital media by enabling secure distribution and/or disabling illegal distribution of the data. Typically, a DRM system protects intellectual property by either encrypting the data so that it can only be accessed by authorized users or marking the content with a digital watermark or similar method so that the content can not be freely distributed.
It's not a perfect solution, of course, since the recording is real-time, and therefore slower than normal "conversion" for WMA files. However, as far as we know, this is the only and the best choice for "converting" DRM protected WMA files.
DRM Protected WMA Conversion Guide
1. Launch CyberPower Audio Editing Lab. Click "Record" button to choose the recording sample rate & channel in the pop-up window and click "OK" to activate audio recorder.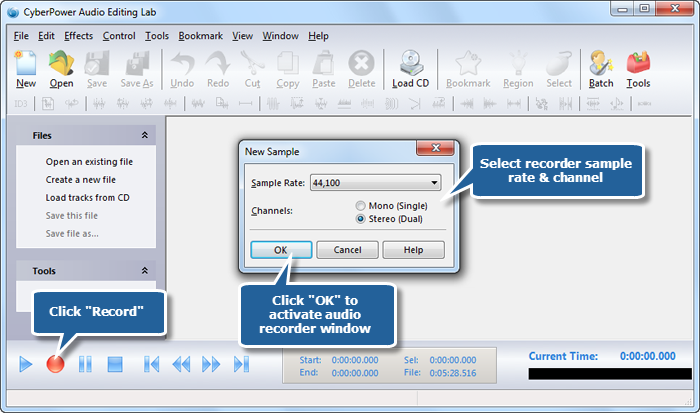 ---
2. In the "Recording" window, choose a suitable recording device and sound source. Choose "Stereo Mix" to record music being played in Windows Media Player. Adjust the recording volume as needed.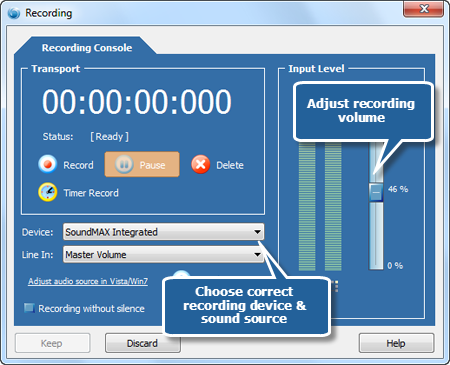 Choose "Mic Volume" if you want to record the sound from microphone; Choose "Line In" if you want to record the sound from the multimedia devices connected to your computer; there are more options like "Phone Line", "Aux Volume", "Video Volume" and "CD Audio".
---
3. When the settings is done, just hit "Record" to start recording and you can play the DRM Protected WMA audio file now. Click "Pause" to stop recording and click "Keep" to input the recording to the waveform window of audio editor.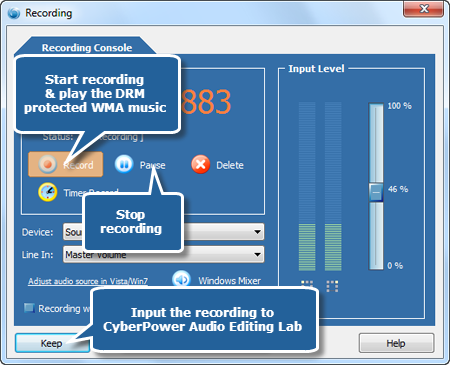 Before recording, we suggest you use Record without Silence to skip recording the silent part at the beginning of a song & record when there is sound signal detected; or, after recording, you can select the segment with no sound and click "delete" to remove them. Also, it would be better if you quit all the programs that may unpredictably prompt a window & play a reminder sound, which could possibly ruin your recording.
---
4. Now you can edit the recording to meet your demands and add some cool audio effects for your audio masterpiece. To save the recording, just click "Save". You can choose an output format and specify the output quality.
Once the new file is saved to disk, you can do anything you want with it, such as burn to CD, use on portable audio players, etc. CyberPower Audio Editing Lab's audio recorder feature is very reliable and easy to use. Advanced options are available for those who want to take advantage of them, though they are completely optional, making CyberPower Audio Editing Lab the perfect software for recording WMA files protected with Digital Rights Management (DRM) for users of any experience level.