Audio Convert Merge Free is an excellent and unique audio joining application which allows you to join separated audiobook chapters into a single one fast and easily, with a high quality results. No matter what compression rate, sample frequency or channels of input audiobooks are, Audio Convert Merge Free joins them to same parameters and output one audiobook with CD quality.
---
What is Audiobook?
 An audiobook or audio book is a recording of a text being read. It is not necessarily an exact audio version of a book or magazine. Spoken audio has been available in school and public libraries and to a lesser extent in music shops for a long time. It was not until the 1980s that the medium began to attract book retailers and then book retailers started displaying audiobook on bookshelves rather than in separate displays.
Audiobook is a good choice to release your eyeballs while "reading".
---
Audiobooks Joining Guide
1. Launch Audio Convert Merge Free. Clicking "Add Files" to add downloaded separated audiobook chapters to the joining list. What's more, you can just simply drag & drop or copy & paste the files to the task list. It is available to adjust the sequence of joining list by dragging the added files. Click "Delete" or "Clear" button to remove one or all the added audiobooks if needed.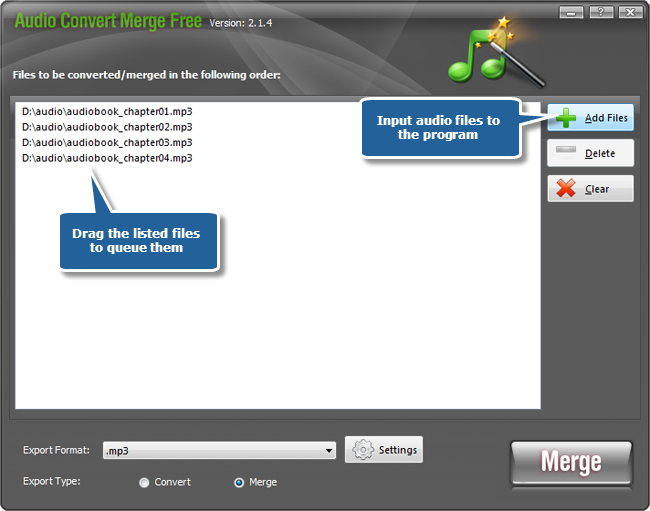 ---
2. Choose an output format among MP3, WAV, WMA and OGG from the dropdown menu of "Export Format". Furthermore, you are able to adjust the output quality with the well-configured presets or specify the configuration parameters to meet your demands.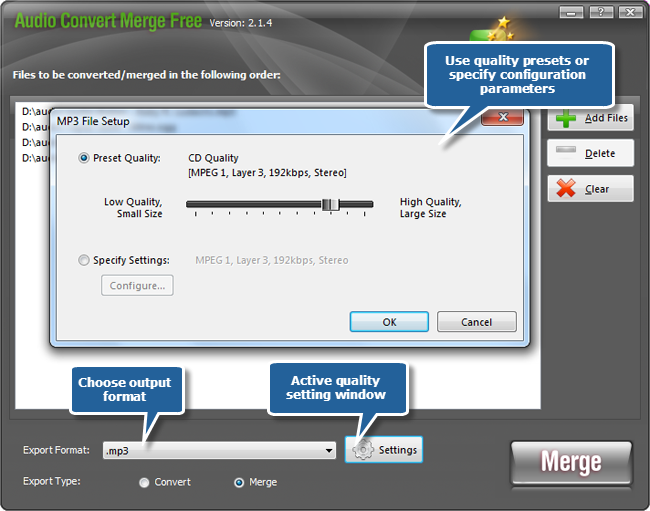 ---
3. After adjusting output settings, choose the "Merge" mode from the "Export Type". Click "Merge" to select the output folder and give a filename for the joined audiobooks in the browser window and click "Save" to start joining audiobooks. The audiobooks are completely joined when the process bar disappears. Now, you can play the joined audiobooks on portable listening devices.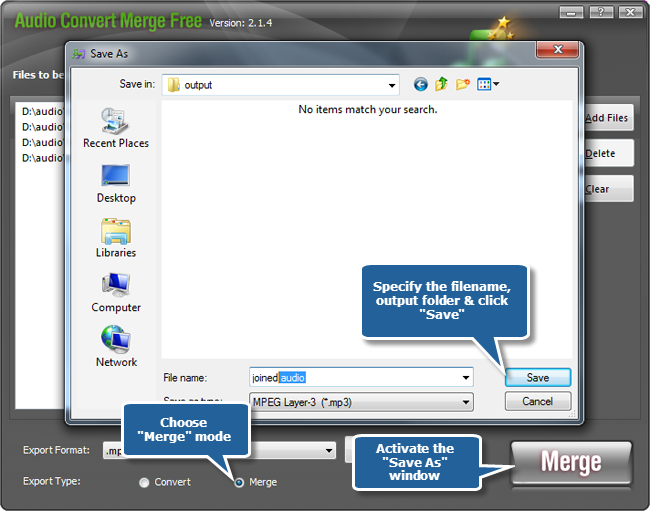 To convert the audio files, just choose "Convert" mode & the added files will be converted one by one to the specified output folder and format.